School Groups & Field Trips
Inspire lifelong learning with authentic objects, stories, and experiences.
Our 20/21  programs are a fun way to connect an engaging museum experience with the BC curriculum.
20/21 Curriculum Programs
Delivered virtually or on-location, our captivating school programs will inspire curiosity and interest. We embrace the First Peoples Principles of Learning and offer student-centred programming in line with the curriculum guidelines as laid out by the BC Ministry of Education.
Email us at education@kelownamuseums.ca, or call 250-868-4836 to book your time.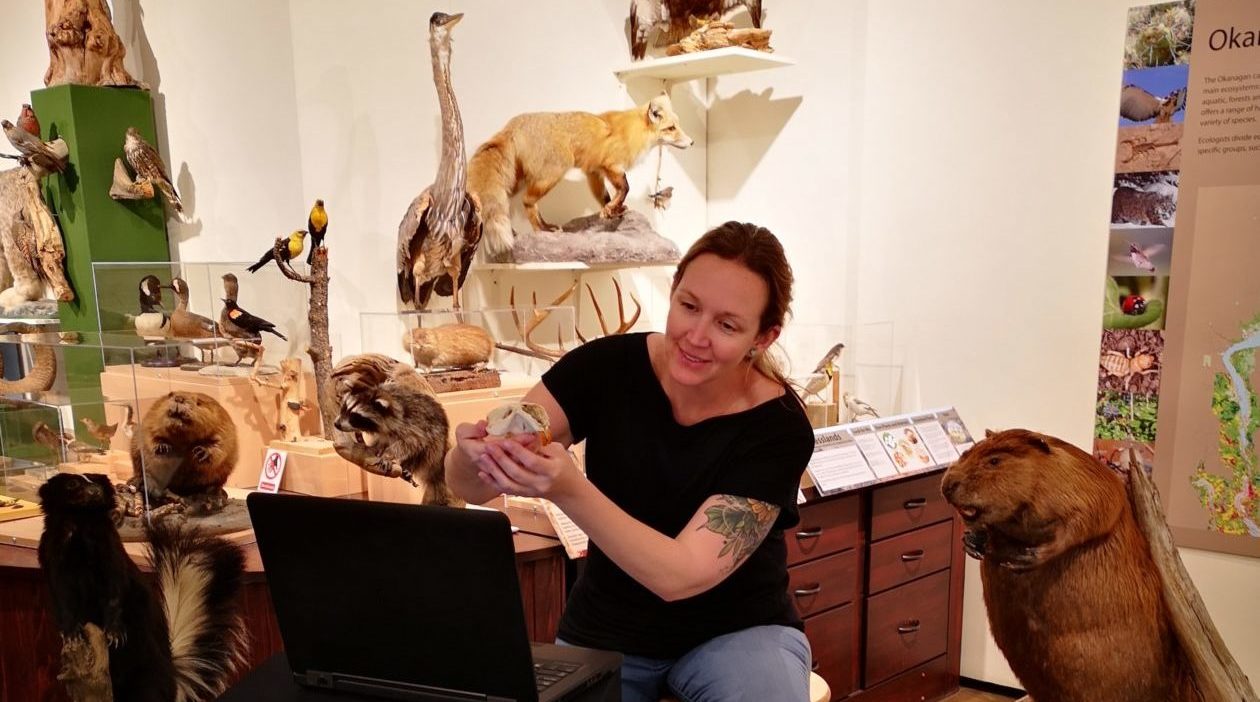 Accordion Toggle Closure
Science
Amazing Animals of the Okanagan
Kindergarten – Grade 5
30 minutes
MY, WHAT BIG TEETH YOU HAVE! Examine animal skulls and taxidermy mounts as we explore the biodiversity of the Okanagan.
Get Wild with Pollinators
Kindergarten – Grade 5
30 minutes
Not all bees live in hives or wear yellow and black stripes! Discover pollinating insects of the Okanagan and appreciate the hard work they do. Take away tips and fun activities that you can do at home to help our wild bee population.
Easily adaptable to older grades.
What a Hoot! All About the Owls
Grades 2 – 4
30 minutes
The wise old owls are perfectly adapted to their place on the food chain; see for yourself with an up-close look at our owl collection! Learn why owl diets in BC are changing and what this means, then dissect a real owl pellet.
Pellets will be sent to school ahead of time. Materials surcharge: $2 per student.
Social Studies
tmixʷ | syilx Land and Culture
Kindergarten – Grade 12
30 minutes
The syilx people have a deep connection to their land and profound knowledge of local ecosystems. tmixʷ is a syilx word that refers to all living things, including the land, water, animals, people, plants, and much, much more. Explore cultural topics and practice an nsyilxcən greeting.
Salmon, Saskatoons and Storytelling
Grade 3
45 minutes
Discover what sn̓k̓lip (coyote) knows through storytelling, songs, artifacts, and a virtual visit to the qʷćiʔ (winter home).
Students will engage with syilx culture through museum galleries, specially selected objects, and a virtual visit to the winter home. We'll also explore the story of the 4 Food Chiefs and Indigenous education staff will have your students "drumming" along to coyote songs.
This program is a partnership of Kelowna Museums and the Central Okanagan Public Schools Indigenous Education Department.
n̓x̌a?x̌?itkʷ | Lake Tales and The Truth About Ogopogo
Grades 2 – 6
30 minutes
Is the lake a good home for Ogopogo? You decide as we explore our connection to the water, the syilx perspective of n̓x̌a?x̌?itkʷ, and current water issues.
Sub Hunter and the Battle of the Atlantic
Grades 5 – 12
30 minutes
This is a story of submarine warfare, the Battle of the Atlantic and Commander C.A. King, who spent most of his life at sea. Get a glimpse of life in the Royal Canadian Navy through select objects that bring the story to life. Plus, give your best guess at some navy slang!
Feature Programs - Limited
 Field of Crosses: Remembering Our Local Soldiers
Grades 6 – 9
30 minutes
Available Oct–Nov 2021

The Field of Crosses is a memorial of 240 white crosses in City Park. Each cross represents one person from Kelowna who lost their lives in the service of our community. Students will gain a deeper understanding of what this means by participating in a research project, a virtual tour of the Okanagan Military Museum, and a visit to the Field of Crosses. This program is funded by the Rotary Club of Kelowna.
Virtual Field Studies
During the 20/21 school year, most of our school programs are delivered virtually. Some small group field trips on-location are allowed; contact us to learn more. Register your class for a memorable and educational museum experience.
How to Register
Email us at education@kelownamuseums.ca, or call 250-868-4836 to book your time.
Costs & Payment: 
The price per virtual program is $75 unless otherwise stated. If this cost is a barrier, please contact us to discuss options.
Please contact us to learn more about special pricing which may apply in your school district.
We acknowledge the financial support of the Province of British Columbia.
"The students really enjoyed the story of the 4 chiefs. They also loved the song and seeing the winter home. The lesson fit perfectly with our curriculum. We loved it!"
"We had a FABULOUS VFT today with the owl program.  It was so engaging for everyone, and the owl dissection was very interesting.  Thank you for providing such a wonderful program.  I am often reluctant to book virtual field trips, but this one was amazing!"
"Allison did a super job on our recent virtual field trip with the museum!  I am all too familiar with the challenges of entertaining students on a virtual learning experience so I can truly appreciate Allison's efforts.  She was organized, fun and provided wonderful insight on our studies.  Thanks for the lovely beading kits – they were a huge hit with the kids.  Those arrowheads are the best!  The kids really do appreciate making this unique keepsake."
"The students were so engaged! It was great having them answer questions and be a part of the presentation."