Okanagan Heritage Museum
Discover the natural and human history of Kelowna
Experience fascinating displays and learn how the Okanagan Valley was formed, and why it supports tremendous biodiversity. Step into the world of the syilx/Okanagan people, and gain insights into their close connection to the land. Learn about the arrival of traders and settlers, and peer into the windows of a store from Kelowna's Chinatown. Meet some individuals from Kelowna's past and present, and be inspired by the Central Okanagan Sports Hall of Fame.
FALL Hours (STARTING Sept 7)
| | |
| --- | --- |
| Monday | 10:00am – 5:00pm |
| Tuesday | Closed |
| Wednesday | Closed |
| Thursday | 10:00am – 5:00pm |
| Friday | 10:00am – 5:00pm |
| Saturday | 10:00am – 5:00pm |
| Sunday | 11:00am – 5:00pm |
ADMISSION
Admission is by donation.
Suggested donation $5 per person/$15 per family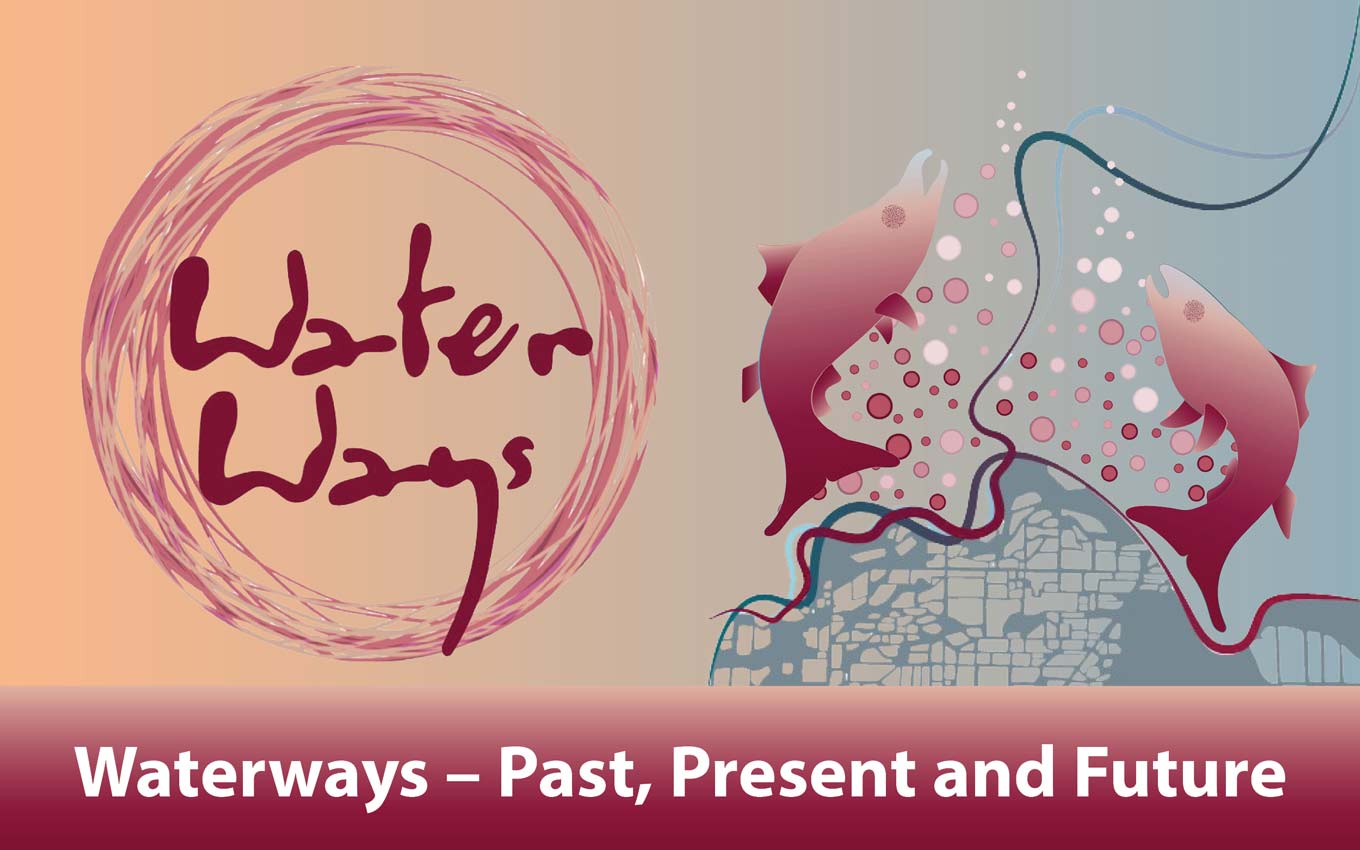 Waterways
Take a deep dive into the human relationship with water.
September 18, 2021 to January 29, 2021
Okanagan Heritage Museum
"This exhibit will inform, intrigue and spark conversation."
Waterways explores the nature of our relationship with water – from the impact of development and climate change on the environment to the importance of Traditional Ecological Knowledge in ensuring all living things have clean water, now and in the future.  In keeping with syilx environmental ethics, the Okanagan Waterways Project reminds us that we all have a responsibility to work towards building and upholding the sustainability of water for healthy ecosystems and for future generations.
The exhibition features immersive media, which includes a video installation featuring the insights of Elders and Knowledge Keepers of the syilx Okanagan community, scientists and conservationists. There is also a highly realistic virtual world where visitors can explore what the Okanagan waterways were like before development via a touch-screen interface.
Waterways also showcases examples of Indigenous-led restoration where diverse partners continue to collaborate to enhance the sustainability of water. The exhibition mobilizes the knowledge emerging from Waterways – the Past, Present and Future of the Okanagan Waterscape, a four-year Social Sciences and Humanities Research Council (SSHRC) funded project led by faculty from University of British Columbia Okanagan's Centre for Culture and Technology and other essential partners, including the En'owkin Centre whose input was vital in ensuring a rich cross-cultural Indigenous perspective on water.
Waterways is a collaborative undertaking between the University of British Columbia Okanagan, Elders and Knowledge Keepers of the syilx Okanagan community, Kelowna Museums Society, Okanagan Basin Water Board, and the Okanagan Collaborative Conservation Program.
Museums Are Living Places
There's always something new to discover at the  Okanagan Heritage Museum!
In recent years, the permanent gallery of the Okanagan Heritage Museum has been completely transformed. This was a major project that was informed by the vision and expertise of syilx/Okanagan Elders and knowledge carriers, historians, scientists, and members of diverse communities. In particular, we are grateful to staff from the Sncəwips Heritage Museum (Westbank First Nation) for their guidance and support. We are proud to display an Eagle Staff which symbolizes our friendship in telling a story together.
Eric Mitchell, Elder of the Okanagan Indian Band, led the design and construction of a traditional Okanagan Winter Home. These remarkable structures are sometimes referred to as pithouses or kekulis, but Eric taught us the proper name, qʷćiʔ. A highlight of a museum visit is stepping into this gorgeous space. The gallery transformation continues as we layer in new information as it becomes available to us. Visitors remark they are astonished by new insights, engaged by the provocative displays and delighted to see how much children enjoy exploring the museum.
Additional Programs & Services
Upcoming Events & Workshops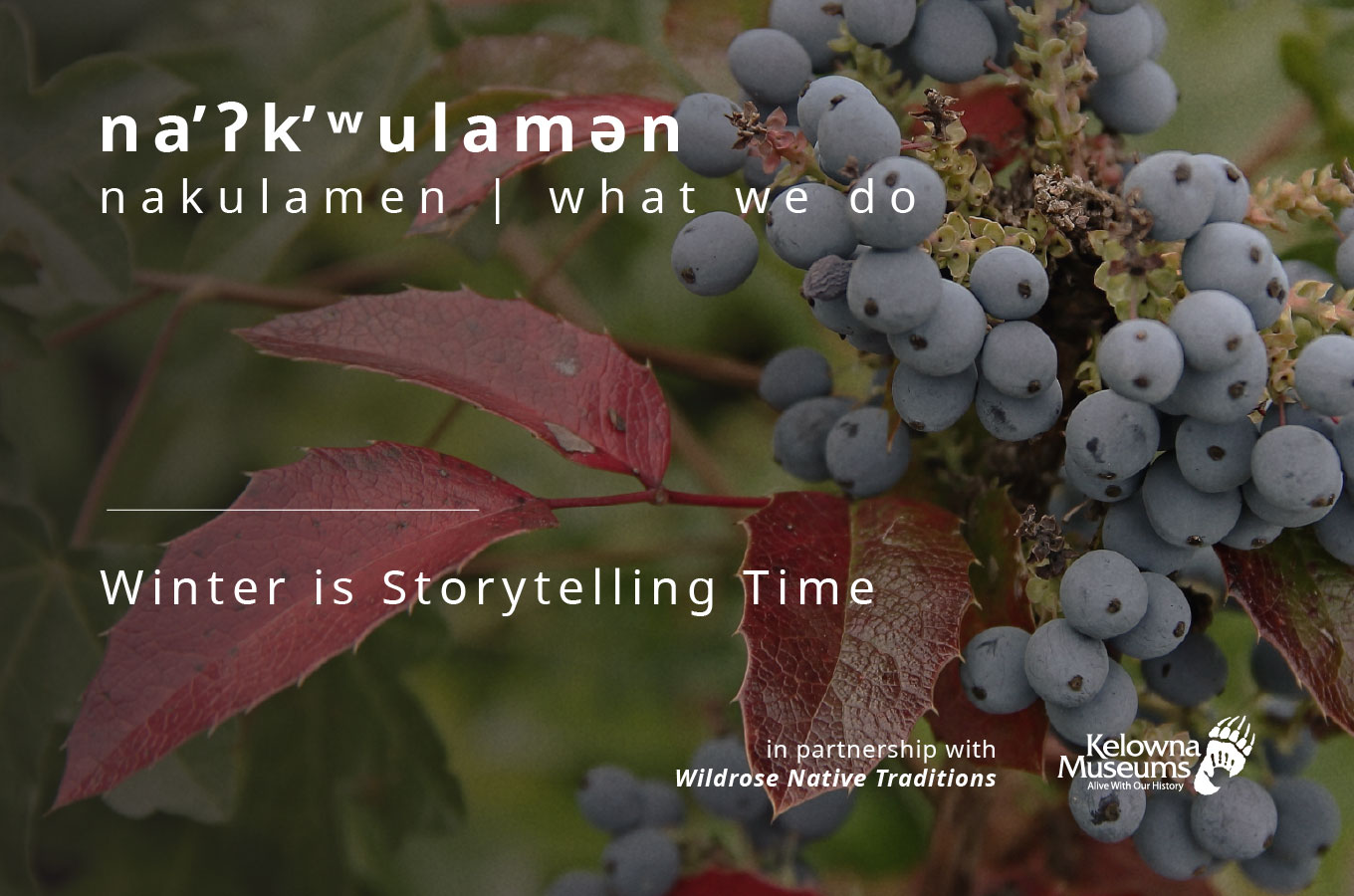 Get cozy and listen to a telling of the captíkwł, "How Turtle Set the Animals Free." Kids and adults alike will appreciate what the captíkwł teach us about living harmoniously on this land. Family-friendly and suitable for all ages!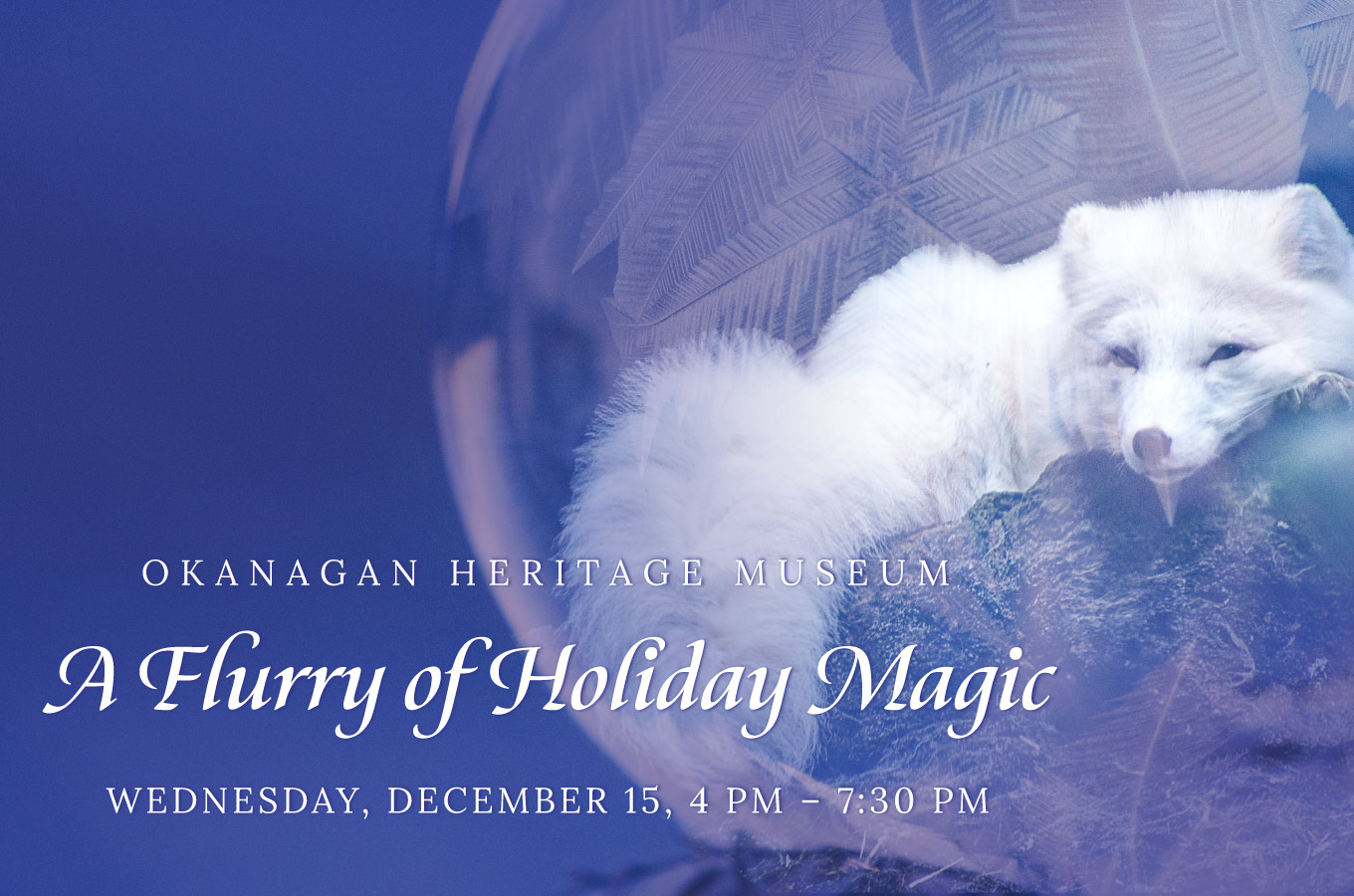 Grab a lantern and step into the magic of the museum, all decked out for the holidays! This experience will leave you feeling nostalgic for that old-fashioned festive charm with stories, crafts, games, and the sights and smells that mark the holiday season.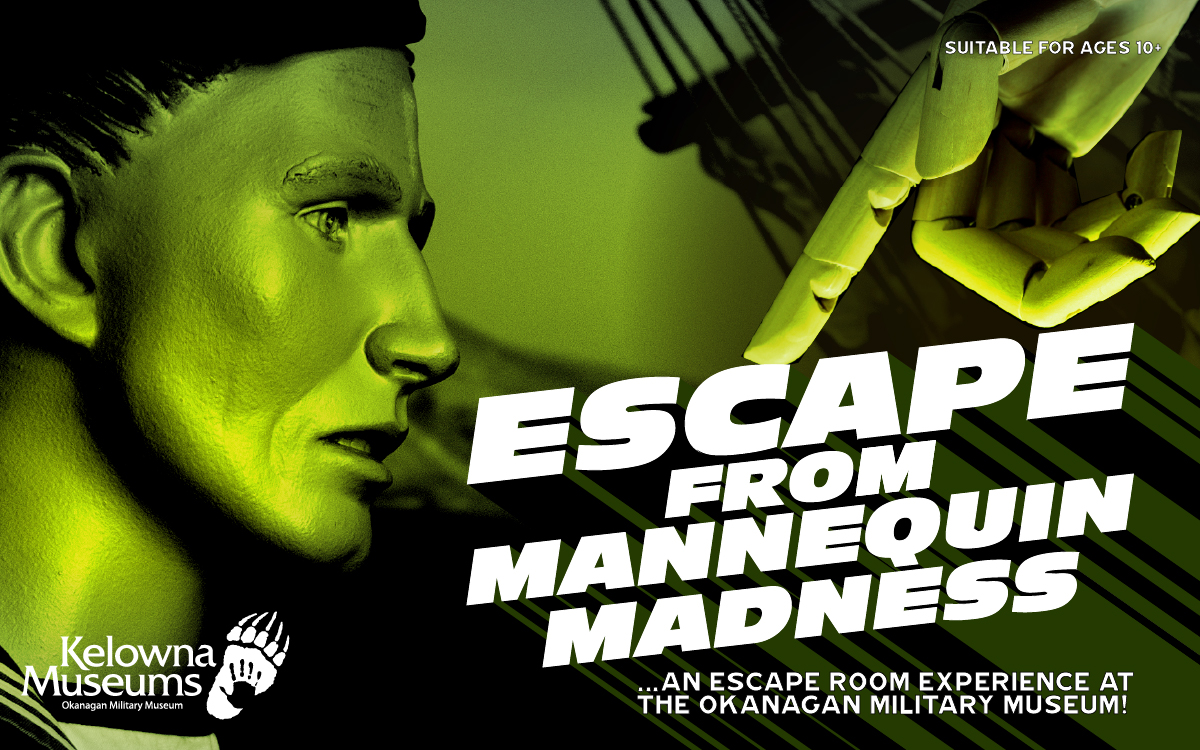 An all-new exit room experience! Save the world from the mad scientist Dr. Mann E. Quinn, who is plotting to raise a mannequin army, by solving clues around the Okanagan Military Museum. You have 1 hour... to save the world.