Okanagan Heritage Museum
Discover the natural and human history of Kelowna
Experience fascinating displays and learn how the Okanagan Valley was formed, and why it supports tremendous biodiversity. Step into the world of the syilx/Okanagan people, and gain insights into their close connection to the land. Learn about the arrival of traders and settlers, and peer into the windows of a store from Kelowna's Chinatown. Meet some individuals from Kelowna's past and present, and be inspired by the Central Okanagan Sports Hall of Fame.
Hours
| | |
| --- | --- |
| Monday | 10:00am – 5:00pm |
| Tuesday | Closed |
| Wednesday | Closed |
| Thursday | 10:00am – 5:00pm |
| Friday | 10:00am – 5:00pm |
| Saturday | 10:00am – 5:00pm |
| Sunday | 11:00am – 5:00pm |
Holiday Hours
| | |
| --- | --- |
| Monday, May 23 | 11:00am – 4:00pm |
ADMISSION
Admission is by donation.
Suggested donation $5 per person/$15 per family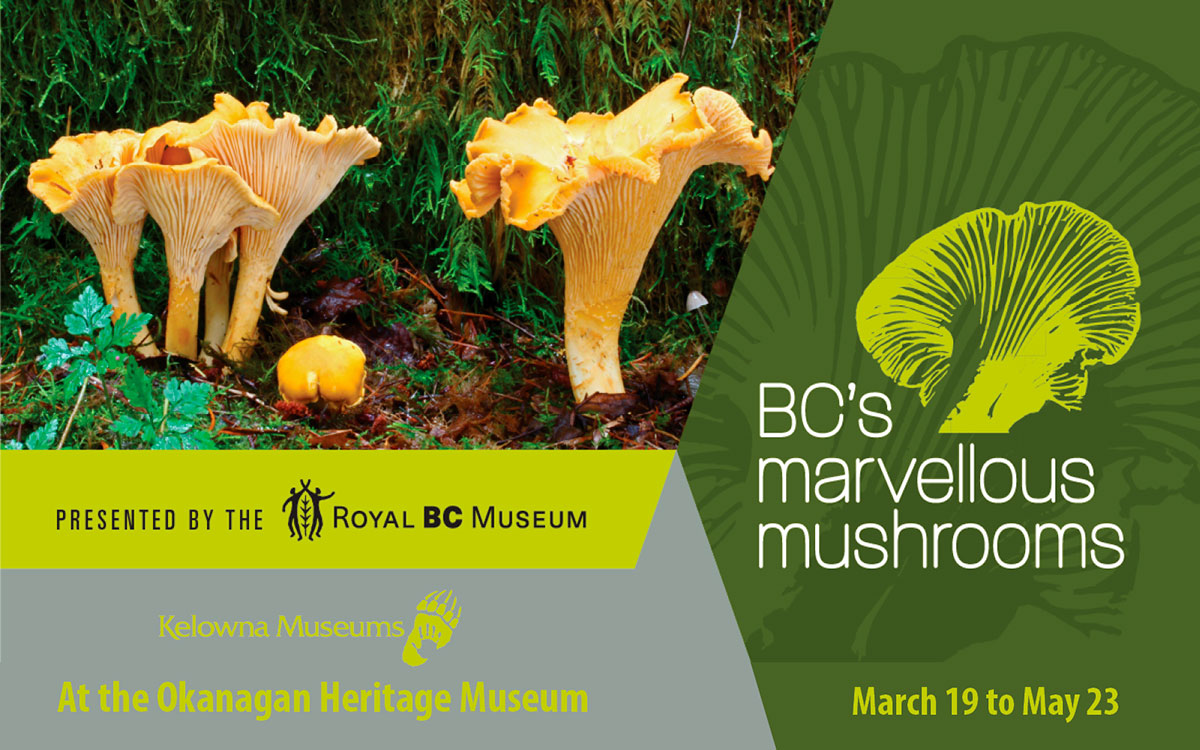 BC's Marvellous Mushrooms
A travelling exhibit from the Royal BC Museum
March 19, 2022 to May 23, 2022
Okanagan Heritage Museum
Celebrating the thousands of mushroom species in BC and the many ways to study, harvest and enjoy them.
BC's Marvellous Mushrooms explores the science and practical uses of mushrooms today. Created by the Royal BC Museum, this exhibition highlights some of the province's most fascinating fungi.
Did you know that 3,400 species of mushrooms have been described in BC? BC's Marvellous Mushrooms introduces a cross-section of different species—some familiar, some bizarre, some delicious and some deadly. Their lives are interwoven with every part of British Columbia ecosystems. Mushrooms are a subject of scientific study and also a source of food, dyes, and medicine. To some people, they are objects of ceremony and beauty. As you explore hand-sculpted mushroom models and foraging equipment, you will discover more about the versatile mushrooms of BC and their ecological and cultural roles.
"British Columbians love mushrooms!" says author Andy MacKinnon, author of Mushrooms of British Columbia. "This family-friendly exhibit explores the many ways that people in our province interact with BC's fabulous fungi."
Museums Are Living Places
There's always something new to discover at the  Okanagan Heritage Museum!
In recent years, the permanent gallery of the Okanagan Heritage Museum has been completely transformed. This was a major project that was informed by the vision and expertise of syilx/Okanagan Elders and knowledge carriers, historians, scientists, and members of diverse communities. In particular, we are grateful to staff from the Sncəwips Heritage Museum (Westbank First Nation) for their guidance and support. We are proud to display an Eagle Staff which symbolizes our friendship in telling a story together.
Eric Mitchell, Elder of the Okanagan Indian Band, led the design and construction of a traditional Okanagan Winter Home. These remarkable structures are sometimes referred to as pithouses or kekulis, but Eric taught us the proper name, qʷćiʔ. A highlight of a museum visit is stepping into this gorgeous space. The gallery transformation continues as we layer in new information as it becomes available to us. Visitors remark they are astonished by new insights, engaged by the provocative displays and delighted to see how much children enjoy exploring the museum.
Additional Programs & Services
Upcoming Events & Workshops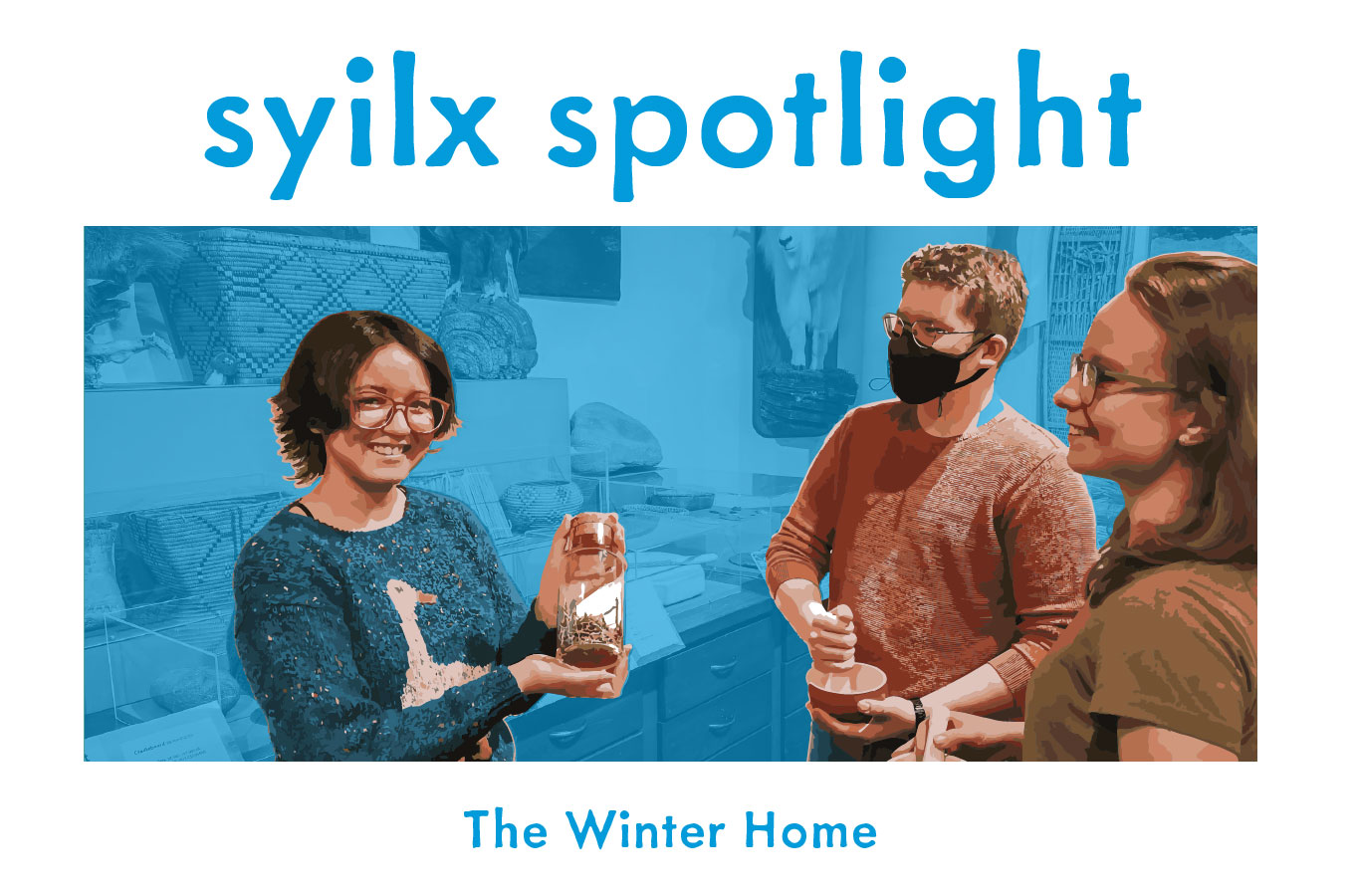 Sunday afternoons for a fascinating, hands-on look at syilx (Okanagan) culture and traditions. Get an up-close look at objects from our collection and take part in a hands-on activity or experience!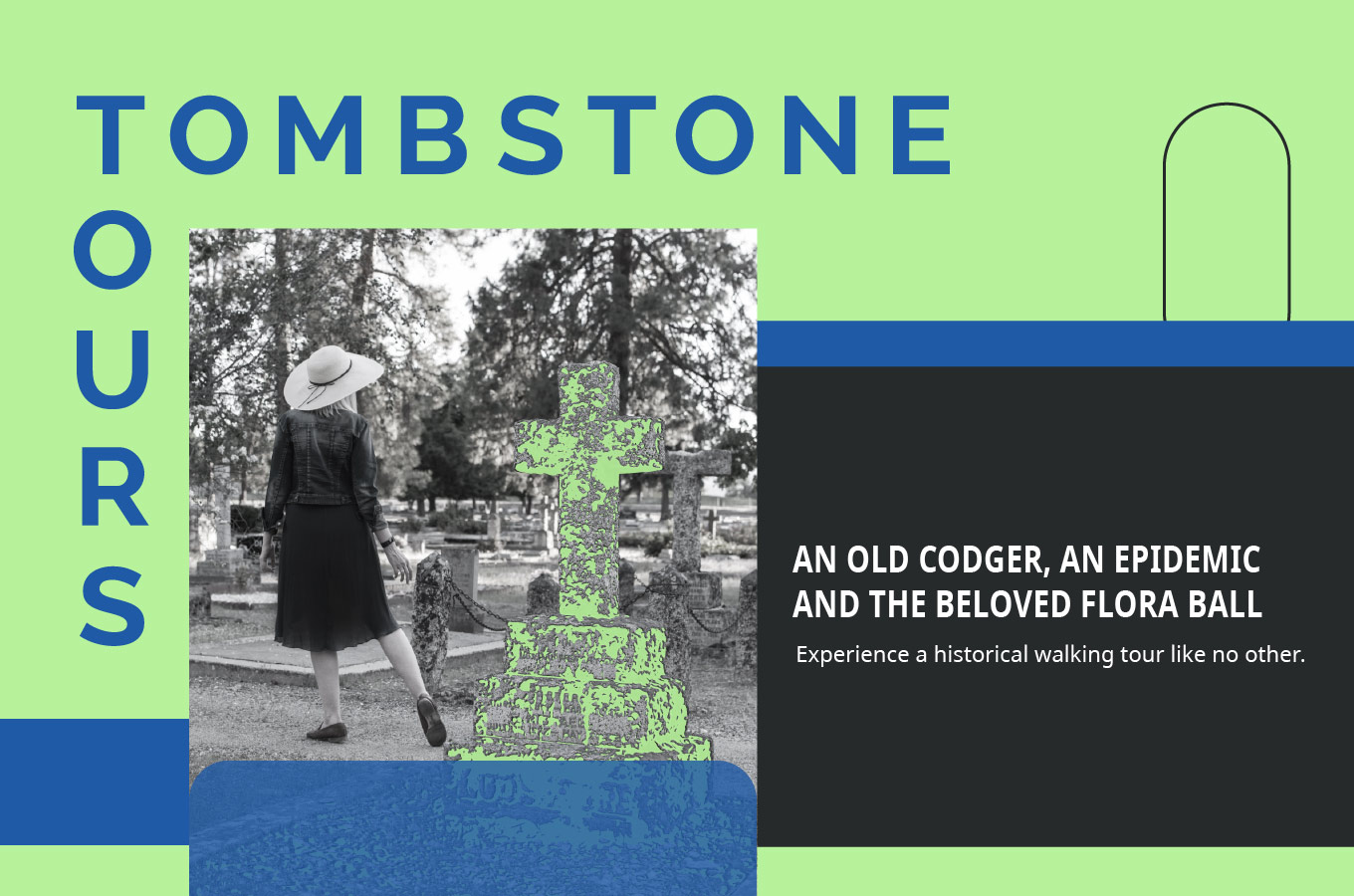 you will encounter forgotten neighbourhoods, teacher's corner, mighty pioneer women, and the occasional wildlife spotting in this beautiful setting. Each week is different, so keep coming back!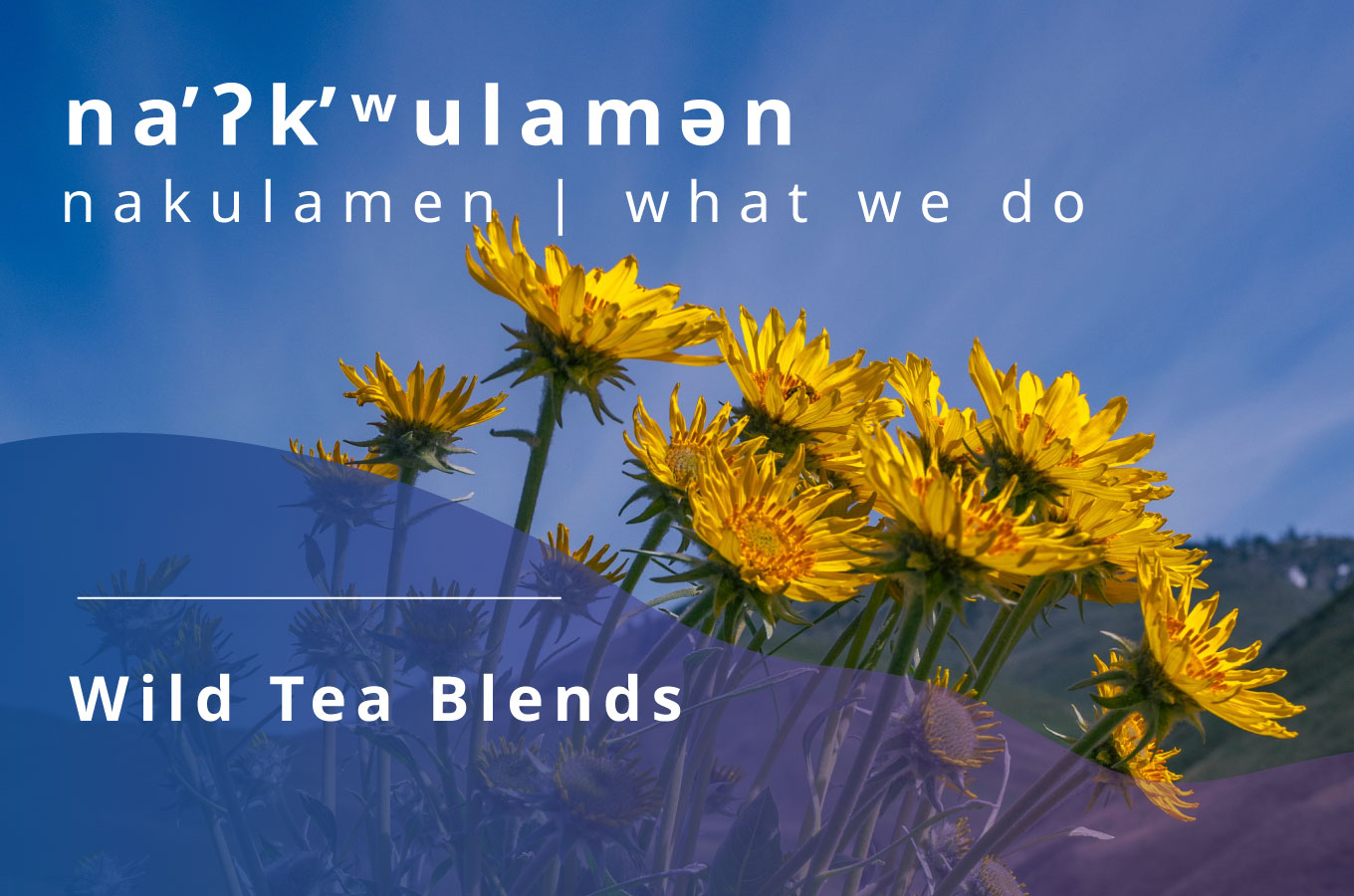 This event is IN-PERSON and will take place in the Laurel Square, the outdoor space to the south of the Laurel Packinghouse. Participants will learn about plants and medicine, sample wild tea, and make their own blend to take home. Plant samples have been respectfully c...