Laurel Packinghouse
Feel the ambiance of the oldest packinghouse in B.C.
The Laurel Packinghouse is a unique and atmospheric rental space for events such as business and corporate functions, private events such as weddings, and community events. 
Hours
Temporary Closure
In the meantime, visit the Laurel Square, part of the Okanagan Wine and Orchard Museum behind the historic Laurel Packinghouse. This new park offers a fun and interactive way to experience Kelowna's agricultural past for kids of all ages.
ADMISSION
Admission is by donation.
Suggested donation $5 per person/$15 per family
More to explore at
"The Laurel"
The Laurel Packinghouse is currently closed to the general public; however, we are busy behind closed doors overhauling our exhibits in order to create an even more engaging experience for our visitors when we reopen our doors in the summer of 2021!
A historic Kelowna building
Renting the Laurel Packinghouse
The Kelowna Museums Society has made the decision to cancel all events currently scheduled through to the end of May 2021, due to COVID-related concerns. We continue to follow Provincial Health guidelines and will update our policy on rentals as these guidelines change.
Our cancellation policy has been temporarily updated to provide for the return of deposits should a future event need to be cancelled due to Covid restrictions.  As such, you can plan your late 2021/2022 event with the confidence of knowing that you are not putting your deposit at risk should Covid restrictions continue.
Kelowna's Favourite Historic Venue
The Laurel Packinghouse was built in 1917 and completed in 1918, using bricks made locally from Knox Mountain clay. At that time, what is now Kelowna's Cultural District was packed with fruit warehouses, packinghouses, canneries, and a sawmill. Horses, boxcars, and trucks jostled for position on tracks and dirt roads.
A fire in the 1960s destroyed much of the industrial district, but the Laurel was a working packinghouse until the 1970s. When it was slated for demolition in 1982, members of the community rallied to save it, making it Kelowna's first designated heritage building. The building was revitalized in 2010.
Okanagan Wine and Orchard Museum
Conveyors groaned with colourful fruit, and workers sorted and loaded apples, cherries, apricots, pears, peaches, and plums while the box maker built 100 fruit crates every hour. But the busiest bees in the orchard industry are still at work. "Bee" mesmerized by the activity in the live demonstration hive.
The Okanagan wine industry has boomed, bringing huge changes to our region. Learn interesting stories of wines, wineries, wine makers, entrepreneurs, and the trials and triumphs of the industry.
Kelowna Museums' Upcoming Events and Workshops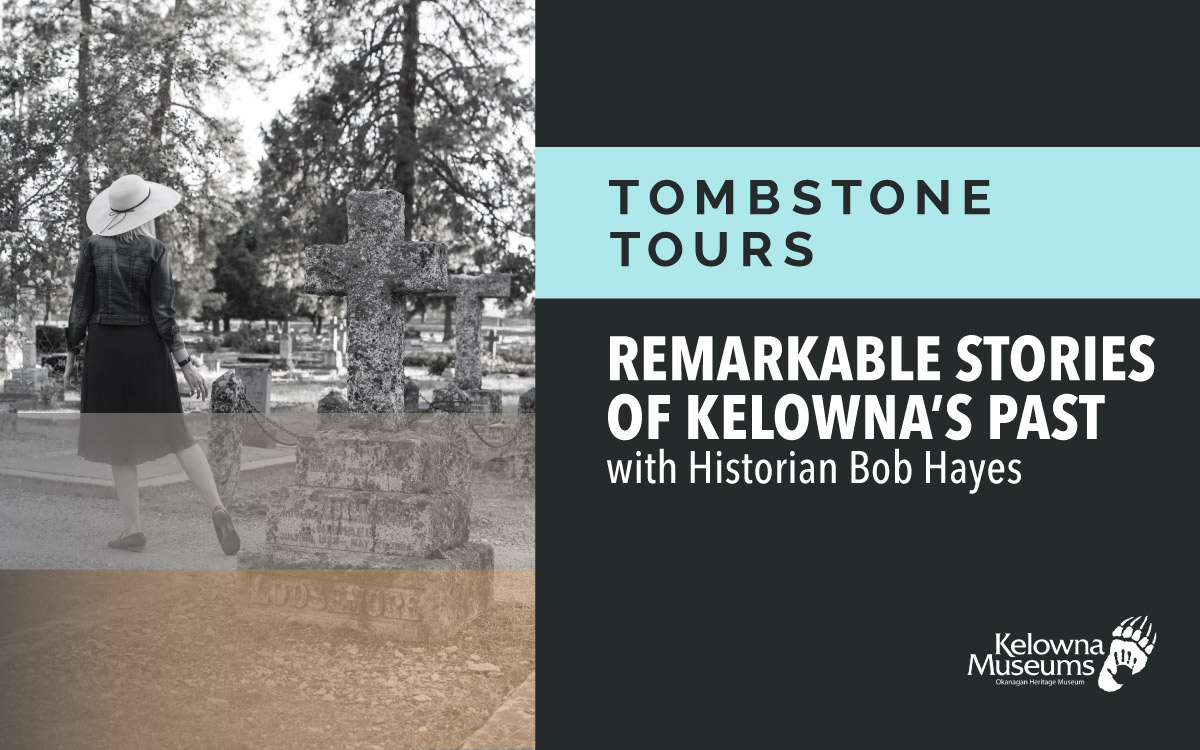 Discover the stories of the stones in this unique tour of Kelowna's largest historical site, the Pioneer Cemetery. Led by historian Bob Hayes, you will encounter forgotten neighbourhoods, teacher's corner, mighty pioneer women, and the occasional wildlife spotting in th...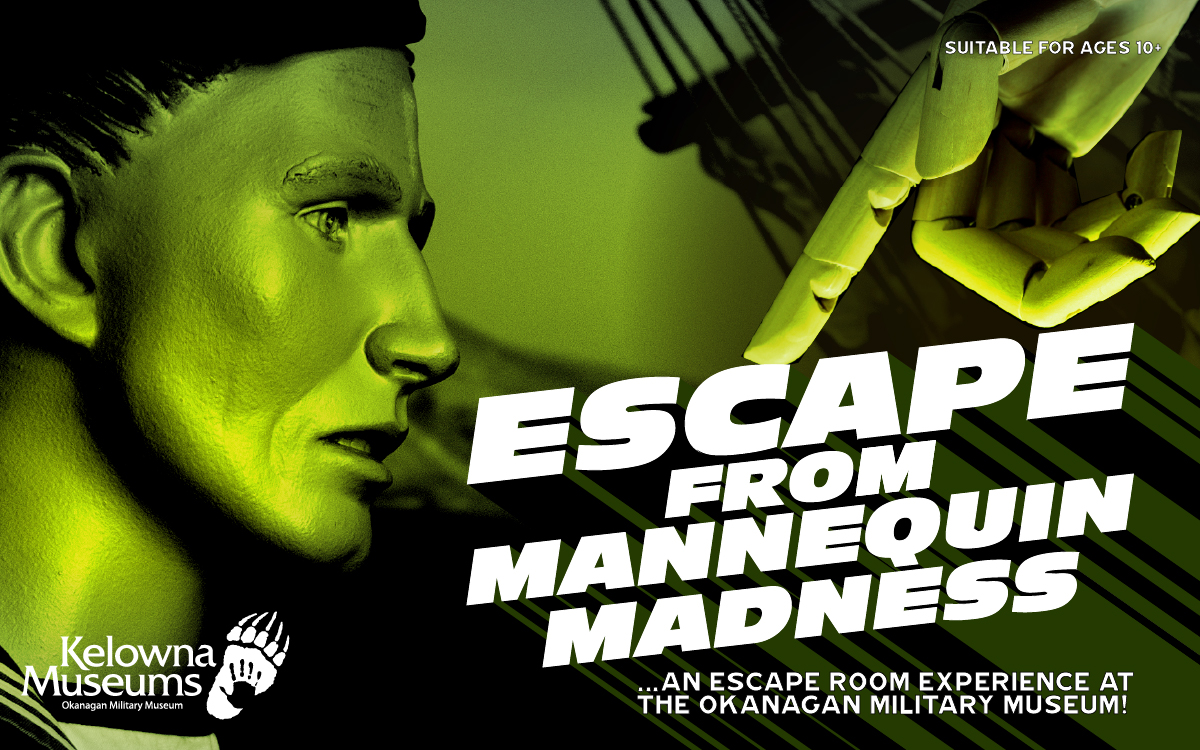 An all-new exit room experience! Save the world from the mad scientist Dr. Mann E. Quinn, who is plotting to raise a mannequin army, by solving clues around the Okanagan Military Museum. You have 1 hour... to save the world.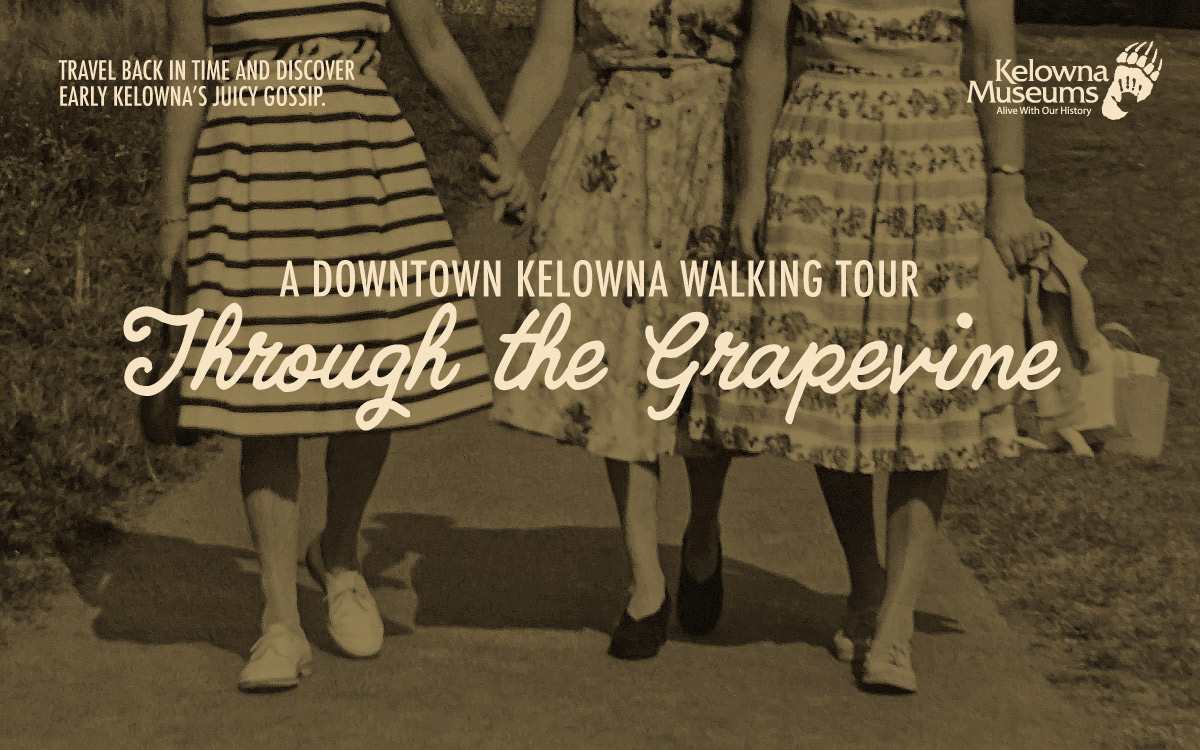 Where there's juicy fruit, there's juicy gossip… that was certainly the case for early Kelowna! Join us for a special 1.5 km walking tour and see the Cultural District transform before your eyes as stories from Kelowna's early years are brought to life.