Feel the ambiance of the oldest and largest packinghouse in BC
Visit the Laurel, home of the Okanagan Wine and Orchard Museum.
This summer the Laurel Packinghouse will be offering samples of different varieties of locally grown fruit, Donated by BC Tree Fruits.
So come on in and vote for your favorite.
The Laurel Packinghouse was built in 1917 and completed in 1918, using bricks made locally from Knox Mountain clay. At that time, what is now Kelowna's Cultural District was packed with fruit warehouses, packinghouses, canneries, and a sawmill. Horses, boxcars, and trucks jostled for position on tracks and dirt roads.
A fire in the 1960's destroyed much of the industrial district, but the Laurel was a working packinghouse until the 1970s. When it was slated for demolition in 1982, members of the community rallied to save it, making it Kelowna's first designated heritage building. The building was revitalized in 2010.
Today the Laurel is a unique and atmospheric rental space for events such as business and corporate functions, private events such as weddings, and community events. Click here for more information about renting the Laurel Packinghouse.
Visit the Laurel Packinghouse to explore…
Conveyors groaned with colourful fruit, and workers sorted and loaded apples, cherries, apricots, pears, peaches, and plums while the box maker built 100 fruit crates every hour. But the busiest bees in the orchard industry are still at work. "Bee" mesmerized by the activity in the live demonstration hive. Learn more…
The Okanagan wine industry has boomed, bringing huge changes to our region. Learn interesting stories of wines, wineries, wine makers, entrepreneurs, and the trials and triumphs of the industry. Learn more…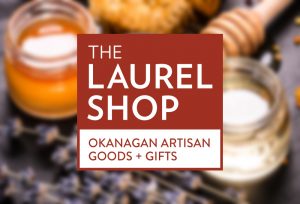 Shop for made-in-Okanagan treats and treasures in the Laurel Packinghouse! Be delighted by unique artisan made keepsakes and delicious local products. Select an authentic fruit crate label, framed archival reprint, or a unique local gift card for those hard-to-buy-for people in your life. Bead collectors will want to string up The Bearpaw, Kelowna Museums Society's signature bead.
We also create gift baskets, suitable for business clients and special occasions.
All gift shop proceeds support the Kelowna Museums Society in its mission to provide the public with educational exhibitions and programs that foster personal participation, stimulate curiosity, and engage the senses with the cultures, histories, and possibilities of the Okanagan region.
Temporary closure until further notice
Admission
Admission is by donation.
Suggested Donation $5 per person/$15 per family
Renting the Laurel Packinghouse
MORE INFORMATION