Bats are often misunderstood, but they are fascinating creatures. Did you know that a single Little Brown Bat can eat over 600 mosquitos in an hour? Or that BC is home to 15 of Canada's 18 species of bats? Or that bats account for nearly 20% of all mammal species worldwide?! Yes, a fifth of the mammals on the planet are bats! Bats are also the only mammals that can truly fly.
With so many bats in our midst you'd think we'd know more about them, but most of us are in the dark about bats. However, their survival depends on our enlightenment. This exhibition shines a light on the bats of British Columbia, bringing them out of the darkness and into our consciousness. The exhibition celebrates these amazing creatures and serves as a reminder of how essential bats are to the environment and the economy.
This is your chance to see bats in a new light! Discover fascinating facts about bats, examine BC bat specimens up close and hear their calls, uncover common myths about bats and join a virtual bat count. Visit the exhibition to learn about the threats bats face and how you can help these fascinating mammals.
For more information contact Amanda Snyder, Curatorial Manager at
asnyder@kelownamuseums.ca / 250.763.2417 ext 29
BATS: Out of the Darkness is available to borrow! Contact Jasmine Marshall, Exhibition Coordinator, for more details. jmarshall@kelownamuseums.ca / 250.763.2417 ext. 22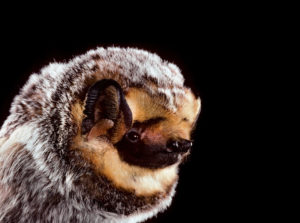 Hoary bats are the largest bats in BC. ©MerlinTuttle.org
BATS: Out of the Darkness has been made possible through the collaboration of community and institutional partners:
Bat Education Ecological Protection Society
Community Bat Programs of BC
En'owkin Centre
Environment and Climate Change Canada
Forest Enhancement Society of British Columbia
Habitat Conservation Trust Foundation
Habitat Stewardship Program for Species at Risk
Kelowna Museums Society
Nature Kids BC
Okanagan Community Bat Program
Okanagan Nation Alliance
Penticton Museum & Archives, City of Penticton
Province of BC
Regional District of Central Okanagan
South Okanagan Conservation Fund