Most of us are in the dark about bats – their survival depends on our enlightenment. BATS: Out of the Darkness aims to bring the bats of British Columbia 'out of the darkness and into our consciousness.'
The exhibition serves as a reminder of how essential bats are to the environment. It also provides a chance to celebrate these amazing creatures and foster stewardship within BC.
BATS is primarily composed of double-sided pop-up walls, which contain stories, information and incredible photographs. Video and audio elements foster interaction and help bring concepts to life. Bat specimens and objects, including a bat house and diorama, may be borrowed by institutions that meet the facility criteria. The family-friendly content focuses on bat ecology, biology, habitat needs, syilx/Okanagan Nation perspectives, conservation issues, personal stories/case studies and fun facts.
BATS: Out of the Darkness was developed in collaboration with a wide variety of community partners, from scientists and environmental educators to chiropterologists (bat experts) and representatives of the syilx/Okanagan Nation, with a goal of shedding light on the bats of BC and inspiring the public to see these unique mammals as worthy of protecting. The focus on local species and resources provides visitors with relatable content and should motivate some to get involved in protecting bats and bat habitats.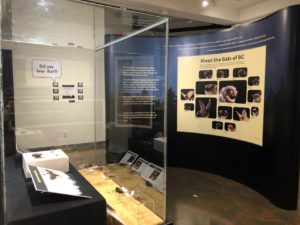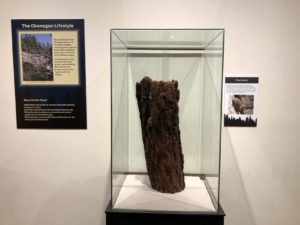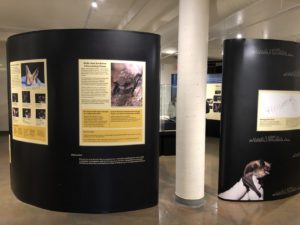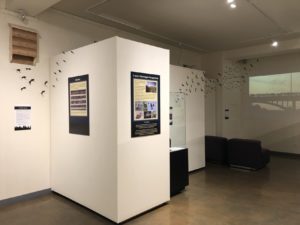 Exhibit Rental Information:
Fees: $200/month for walls and edu-kit, shipping extra
Supplementary materials may be borrowed at an additional cost.

Rental period: 3 months (negotiable depending on availability)

Size: Each of the four walls is 10 feet long by 91 inches tall by 41 ½ inches deep.
The layout is flexible, however the ideal set up is circular and makes use of a minimum of 575 square feet, which allows for 3 feet between the display and facility walls for ample viewing space.

Storage of canisters: Four shipping canisters need to be stored for the duration of the exhibit.
Each measures 28 x 16 x 39 inches.
If you have any questions or would like more information about the Kelowna Museums Society's travelling exhibitions, please contact:
Jasmine Marshall
Exhibition Coordinator
250.763.2417 ext. 22
jmarshall@kelownamuseums.ca