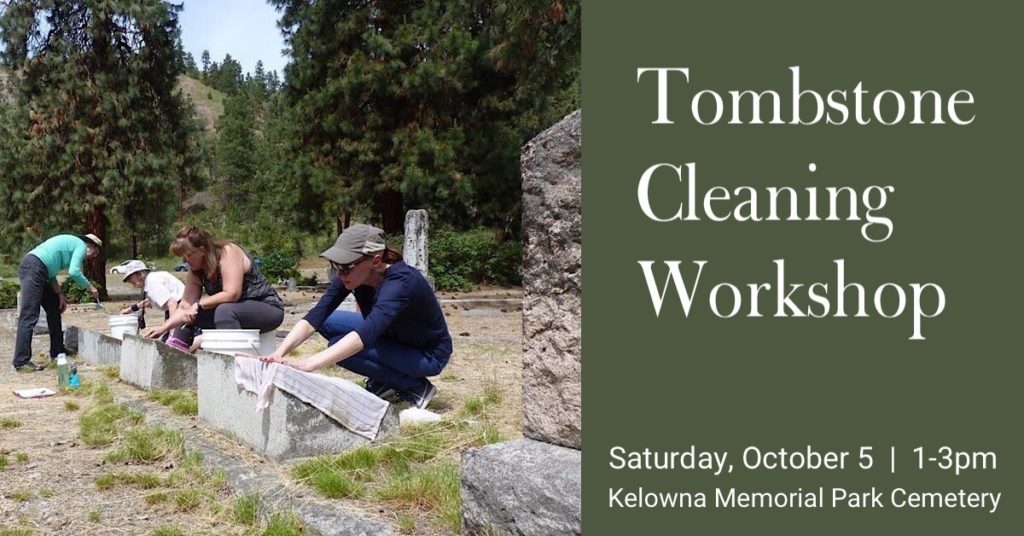 Kelowna's Memorial Park Cemetery is the final resting place of many of Kelowna's historical figures. Time has taken its toll on some of the tombstones in the pioneer section, by keeping them clean and using the proper conservation techniques we can help preserve these historical markers for generations to come.
In this 2 hour workshop you will learn how to safely clean cemetery headstones. You will be shown what tools to use and how to use them. Most of the workshop will consist of hands on activity where you will work together in teams on a few different headstones. For those who like gardening, there will be opportunities to prune some of the plants that are overwhelming the graves.
David Gatzke, the Cemetery Manager, will assist in the workshop by speaking about the history of the cemetery. Local Historian, Bob Hayes, will provide historical information about the people whose graves have been preselected for cleaning.
Please meet at the Memorial Park Cemetery, parking is available near the pioneer section. Be sure to wear suitable clothing to be working outside on the day of the workshop – keep in mind you may get dirty!
$5 per person | Free for members
PARTICIPANTS should REGISTER BY October 4.
Supplies provided
For more information or to register, please contact:
Nikki at 250.763.2417 Ext 23
nbose@kelownamuseums.ca