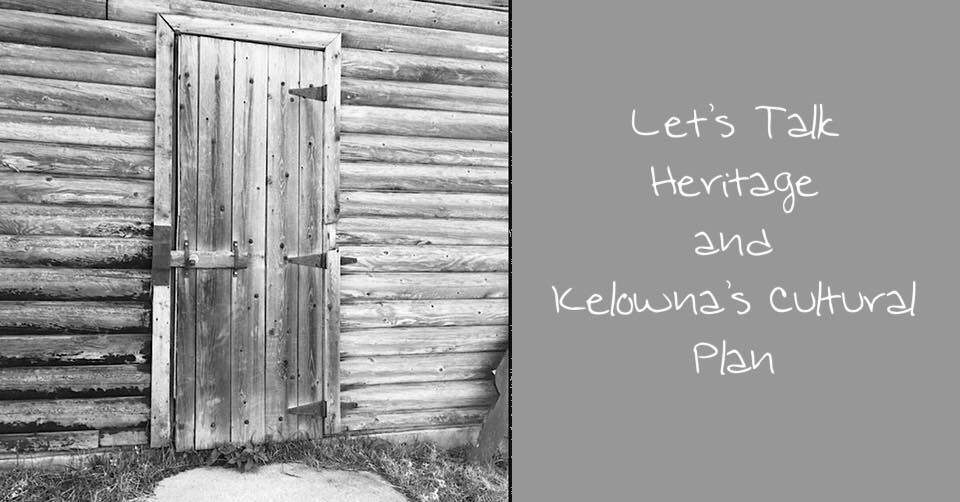 Let's talk about Integrating Heritage as part of Kelowna's Cultural Plan!
Please join us as we review the Cultural Plan Goals for the City of Kelowna and participate in the conversation to share your knowledge, experience, and opinions on issues relating to heritage – our human and natural history – and ways to integrate heritage into the new 2020-2025 Kelowna Cultural Plan!
The City of Kelowna has invited the community to contribute to the update of the 2020-2025 Cultural Plan and they are gathering ideas from people throughout Kelowna on arts, culture and heritage. By asking the community to contribute, they hope to get a Cultural Plan that responds to the current challenges and sets a strong direction for the next five years.
On Thursday, March 14, 2019, Central Okanagan Heritage Society along with Kelowna Museums will host an evening of engagement and conversation about Heritage issues and values in the city.
When complete, the Cultural Plan will act as a guiding document for the City of Kelowna, city-funded cultural facilities and organizations, and many other key cultural development stakeholders.
Engagement events like the one we are holding on March 14 are an important part of the engagement effort and are happening throughout the community – please let us know if you'll be able to participate by emailing [email protected] or calling 250.878.6885
5:30pm: doors open
6:00: Dinner (lasagna, Caesar salad, buns, assorted deserts)
6:30 – 7:45: Discussion and feedback, facilitated by Linda Digby, Kelowna Museums
7:45 – 8:00: Wrap up and summary
Background
The City of Kelowna has begun its community engagement process to update the 2012-2017 Cultural Plan. Since the plan was launched, many cultural organizations have grown, new ones have emerged, and the Cultural District continues to grow as a hub for cultural activity. In addition, the completion of the Bernard Avenue revitalization, the relocation of the Kelowna Police Services building, new parkades and the creation of the Okanagan Centre for Innovation have had an impact on the landscape of the Cultural District.
An update to the Cultural Plan is intended to respond to the changes and challenges facing the community's cultural needs and set a direction for the next five years. The 2020 to 2025 Cultural Plan is anticipated to be launched in the autumn of 2019.
The City of Kelowna is currently in the second phase of their community engagement. During this phase, they are receiving feedback on the Cultural Plan's goals, and strategies to achieve them. Along with the Host Your Own Engagement events, they have an online survey and idea board, will host Youth and Young Professionals Forums, and will be having facilitated stakeholder workshops.