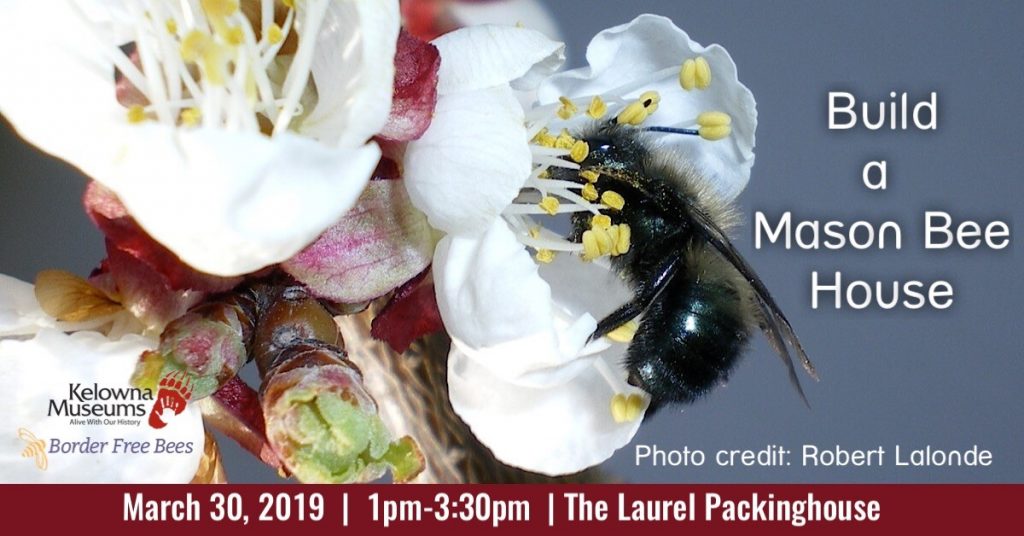 Keep Bees the Easy Way
Join Kelowna Museums and Border Free Bees for a fun afternoon learning about mason bees and making a mason bee house for your garden.
Drop in between 1 and 3:30 PM. Bring a clean one-litre milk carton (the plasticized paper kind—not the plastic bottle). Your DIY bee house can be installed in your garden or yard as soon as you get home.
At 2 PM, Border Free Bees will give a 15 minute talk about native pollinators, why they're important, and how you can help, as well as give pointers about the care of mason bees. You will also go home with information about caring for your bees. The Men's Shed will be on hand to demonstrate ways to create wooden mason bee houses too.
The mason bee is a native bee that is a super-pollinator. More efficient than honey bees, the mason bee is native to the Okanagan and many other places in North America. Mason bees are great pollinators for backyard gardeners and anyone who has a few fruit trees or small flower garden. You don't have to worry about stings and you don't have to mess with honey and hives. It takes about 2 -3 hours a year to keep these bees and they'll reward you with fruit and flowers and fill you with wonder.
By donation
For more information, please contact:
Jen at 250.868.4836
[email protected]