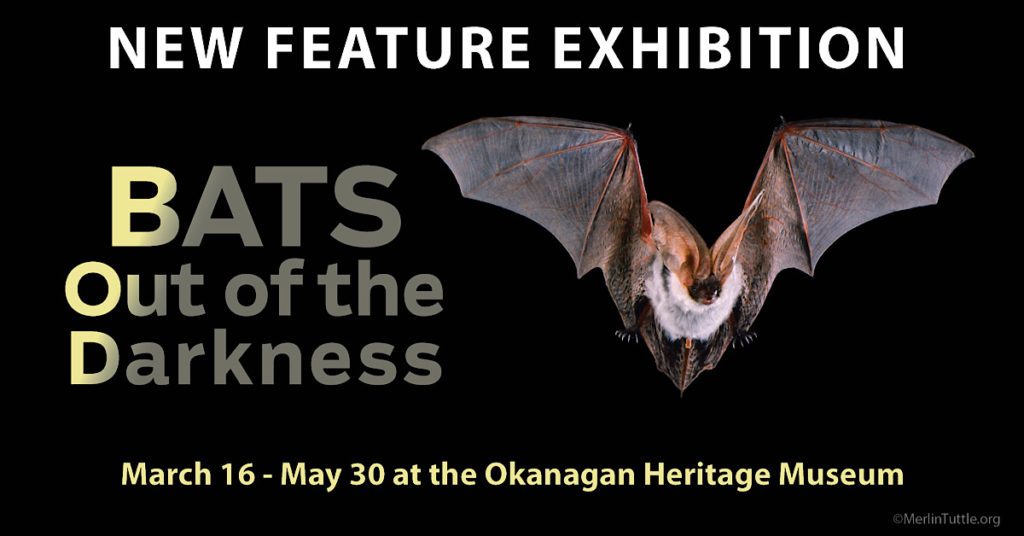 THIS EVENT IS POSTPONED
Join us for the opening celebration of BATS: Out of the Darkness
Did you know that BC is home to 15 of Canada's 18 species of bats? Or that a little brown bat can eat over 600 mosquitos in an hour?!
Most of us are in the dark about bats — their survival depends on our enlightenment. Be one of the first to explore our newest collaborative exhibition BATS: Out of the Darkness and learn about the bats of BC, the challenges that they face, and how you can help these fascinating, and often misunderstood, mammals.
Welcome and opening remarks by special guests Richard Armstrong and Grouse Barnes, as well as project partners. After the formal opening, please join us for family-friendly programming. Play a batty game, learn to say bat in nsyilxcən, and ask an expert everything you've always wanted to know about bats. Light refreshments will be served.
Please RSVP by contacting:
info@kelownamuseums.ca
250-763-2417