Taste, Learn, and Buy at the BC Wine Museum & VQA Wine Shop.
Hours & Locations
CLOSED
Monday – Friday
10:00am – 6:00pm
Saturday
10:00am – 5:00pm
Sunday
11:00am – 5:00pm
 BC Day Weekend Hours

Sunday, August 2nd

Monday, August 3rd

12:00pm – 5:00pm

CLOSED

1304 Ellis St
Kelowna, BC, V1Y 1Z8
tel. (250) 868-0441
The BC Wine Museum & VQA Wine Shop was opened 15 years ago with the intention of bring the history of the Okanagan Wine Region to the public, as well as teaching the public about the vast wine industry in BC. Our shop sells BC Vintners Quality Alliance wines, which is a guarantee that you're purchasing 100% BC wine. We sell at winery prices and carry over 600 listings of wine from over 90 wineries. When you purchase wine from the BC VQA Wine Shop, not only are you supporting the Kelowna Museums Society, but you are also supporting local VQA Wineries. All proceeds from sales support the preservation and presentation of Kelowna's heritage.
Events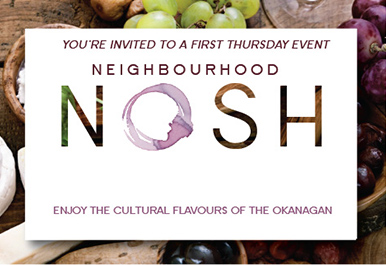 Neighbourhood Nosh
We host the monthly Neighbourhood Nosh the first Thursday of each month. We invite a special winery to highlight their wines and tell a few good stories! Drop by the classic Laurel Packinghouse between 4 and 6 pm and try a new favourite wine.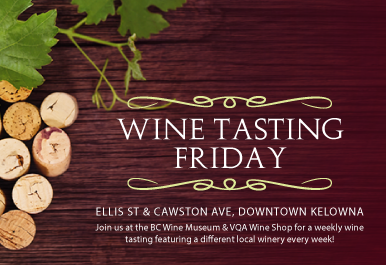 Wine Tasting Friday
Every Friday we host a wine tasting featuring a different local winery! Come join us on Fridays from 3 to 5pm, learn about our local wineries and taste some fabulous wines. It's the perfect way to shop for a new bottle of wine for your weekend festivities!